As the high speed electric train pulled into Berlin, I was getting nervous about running desperately late; just ten minutes before arriving in Berlin Central Station we were still surrounded by very rural farmland. Once in town, I almost did not disembark because I could not believe that such short buildings comprised downtown.
Berlin is a low city with wide streets and many green parks. Art galleries (over 500), war monuments, bicycle lanes, brick churches, glass & steel modernity, and cafes dominate the urban landscape. With a borrowed bike and a new friend, an exchange student on a language program, I received a fun guided tour including two impressive art galleries.

Neue National Gallery - Hiroshi Sugimoto Retrospective
photo berlin.unlike.net
The Neue National Gallery is an impressive space with a very clean profile. The permemant collection of 20th century art is unfortunately closed for a period of time but two temporary exhibitions are on show, one upstairs in the very tall and beautiful glass enclosure and Hiroshi Sugimoto in the basement.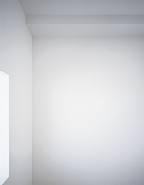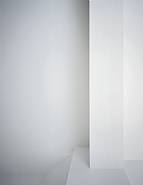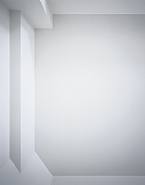 Colors of Shadow project
I finally got a chance to see his Colors of Shadow project which I had heard about last year and am very excited about. The incredible geometric compositions are of his specially designed Tokyo penthouse; various angles of walls connect to cast soft shadows over delicate traditional Japanese plaster. It is Hiroshi's first project in color in which he captures the most subtle hues within the shadows of the sun. However, I was horrified to see how the large photographs were hung by curator. The wall on which they hang faces plate glass windows looking into the sculpture garden. The light flooding in combined with the track lighting reflected off the thick glass of the frame creating so much glare that the subtle hues (the most interesting part of the photographs) were totally lost. In the end, nothing could be gleaned from viewing the exhibition that you cannot see from the small jpegs on this website.
Catherin Howard; Anne Boleyn
Another interesting project of Hiroshi's that I had never heard of was his Renaissance Portraits, recreations of particular paintings. As a technical exercise, they are almost perfect. The faces become just like the idealized porcelain typical of portraits in that period. The clothes and especially the hand gestures are spot on as well.

KW Institute for Contemporary Art
KW has no collection of its own but instead views itself as a laboratory for communicating and advancing contemporary cultural developments in Germany and abroad by means of exhibitions, workshops and resident artists' studios, as well as by collaborating with artists or other institutions and by commissioning works.
There are three exhibitions on at this moment, the most interesting to me was
Ricarda Roggan
's photographs; large scale color prints face mounted to plexiglass of abandoned spaces and crashed cars.